HIGH VOLTAGE DIODE ASSEMBLIES
ABOUT HIGH VOLTAGE DIODE ASSEMBLIES
High voltage diode assemblies are built by adding diodes in series to yield a higher peak inverse voltage. For example if each diode is rated for 1200 peak inverse voltage (PIV), then six diodes in series would have the total peak inverse voltage of 7200 PIV. The detail circuit is shown below.

For more information, click the links below: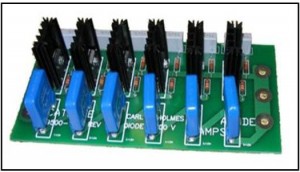 Six Diode Assembly, Blocking Voltage is 7200 PIV, P/N 4256C-1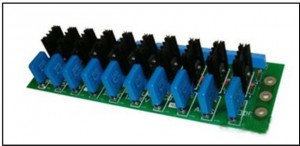 Ten Diode Assembly, Blocking Voltage is 12000 PIV, P/N 4256C-2
These above high voltage diode assemblies were used to build a three phase rectifier circuit for the high voltage SCR controlled power supplies (P/N 18278PS, P/N 18498PS and P/N 18574PS).The number of diodes in series determines the desired peak inverse voltage .We can build a diode assembly with a higher blocking voltage per customer requirements. We keep all materials (i.e. diodes, SCR's, heat sinks, etc.) in stock for immediate assembly. To discuss your specific rectifier stack requirements, please contact us toll free at 714 666-0787, or send us an email at info@cehco.com.